LIKE A LOT of parents, I recently spent the day with William H. Macy, Dr. John, Ziggy Marley, Gilbert Gottfried, The Cat in the Hat, Curious George and Canada's answer to Charlie Brown.
Anyone thinking that sounds like a party had better keep dreaming.
These famous faces are looped into a web of educational cartoons shown everyday on the Public Broadcasting System's PBS Kids block. When these programs are good, they are as infectiously fun as splitting a waffle cone with my son. When they are bad, they make me consider filing for a restraining order against Martin Short.
We don't have cable. So, when our boy wants to watch cartoons, PBS is the only horse in town. Due to this repeat exposure I'm starting to see a trend. It seems the station that gave birth to the careers of Fred Rogers and green puppets living in trash cans has updated its image. America's last bastion of free cartoons has begun incorporating celebrity voices and sly parental nods.
This is not a new idea. Most likely PBS is copying off of the term papers of successful children's films like Toy Story and Cars. However, the history of giving mom and dad a wink among the animated madness goes back decades. Think country star and King of the Road Roger Miller voicing the rooster in Disney's Robin Hood. And, actually, this logic isn't even new to PBS. Way back in 1971, when the Electric Company premiered, it featured notable names like Bill Cosby and Rita Moreno (Not to mention the not-yet-famous Morgan Freeman making a subtle nod to parents, playing a guy called Easy Reader).
While PBS has sort of gone back to its roots, the results are, at best, mixed.
Understand, I am PBS' target audience, not my toddler. Frankly, his standards aren't very high. I once caught him clapping for a screensaver. His papa, on the other hand, is a parent with couth and taste. I have watched movies in foreign languages. I know which is the salad fork.
Credit PBS for trying to lure my demographic. That's a wise plan. But, as we all learned during Back to the Future III: you can't just throw Christopher Lloyd at your problems and hope they go away.
Here is a countdown—from worst to best—of educational cartoons playing right now.
10: Cat in the Hat Knows a Lot About That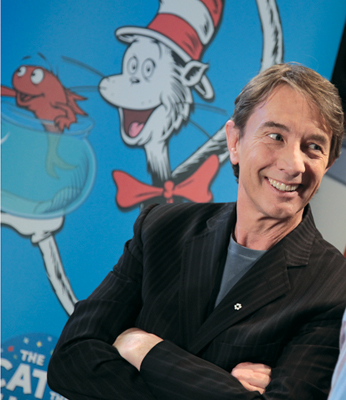 I'm kind of scared to leave my kid alone with this show. The Cat in the Hat Knows a Lot About That couldn't be lazier if they mimeographed pages from old Seuss books and put them onscreen. There are lessons to be learned and travels to generically Suessian lands, I'll spot producers that much. The problem is that Martin Short outshines even Mike Meyers' creepy pawprints in portraying this incarnation of the Cat.
Best I can tell, Short circles every line of dialogue in bright red ink and scribbles: BE WACKY!!!!!!!! in the margin. The Cat's catchphrase, "isn't this fun?" always comes off as less of a good time poke in the ribs and more of a threat from a kidnaper.
I usually can't even register what happens during episodes because Short suffocates every moment of airtime. This show is the reason we have a strict no-getting-into-cars-with-Ed-Grimley rule around our house.
9: Caillou
Questions frequently scrolling across my brain during this show:
"Wait, why is that little boy bald? He seems healthy."
"Wait, why is that little boy's grandma narrating this story?"
"Wait, why do my son and I suddenly have the urge to start nap time early?"
The answer to all the above is because Caillou is Canadian…and boring. This show makes me suspect IKEA has begun producing children's programming.
8: Sid the Science Kid
When the time comes to sit my son down and warn him of the evils of psychedelic drugs, I will flip on an episode of Sid the Science Kid and say, "It looks kind of like this."
Who cares about the biology and geology the show's preschoolers focus on? The program looks really weird. Not just weird, but uncomfortable. Are those cartoons or real people or some computerized hybrid?
My wife is convinced the really awkward little girl has a learning disability. I'm not so sure it's not me who has one, since I routinely let our kid watch this anthropomorphic nightmare.
7: Curious George
This show is kind of a joy when it starts, as New Orleans piano legend Dr. John applies the same magic to Curious George's theme that he did with Blossom two decades ago. And like the show that would become Joey Lawrence's professional tombstone, the theme song is the best part.
While I am usually pretty lenient on cartoon chimps, this is one seriously stupid monkey. Not even the venerable William H. Macy's narration can save this cartoon from making my 18-month old crave lead paint chips. Last we saw, George was trying to bury a manuscript written by the Man in the Yellow Hat in hopes that it would grow an ending.  For real.
6: Martha Speaks
This show has always seemed fairly annoying, considering it follows the exploits of a talking dog. But I never really had a serious issue with Martha Speaks until I realized its Full House-esque opening credits explained that Martha the dog gained the power of speech because a can of alphabet soup got lost on its way to her stomach and, instead, saturated her brain.
The show is okay, but I've fed my toddler dozens of cans of alphabet soup and he still just babbles about some bullshit I don't understand.
Martha does score bonus points for left-of-center guest stars like Poet Laureate Billy Collins.
5: Cyberchase
All you need to know is Gilbert Gottfried plays a bird named "Digit" and Christopher Lloyd plays a villain named "Hacker." They live in a world called "Cyberspace" and there are other characters, like "Motherboard." Apparently, kids are supposed to learn about the internet or math or maybe how people talked in 1996.
In other words, the producers of this show don't realize children instinctually come out of the womb flipping across an iPhone screen nowadays. I'm half-surprised Gilbert Gottfried doesn't make dial-up internet jokes.
4: Dinosaur Train
Sweet god, has there ever been a show more perfect for little boys? It's a fact that tomorrow's mustache-wearers only love two things: locomotives and creatures from the cretaceous era.
PBS is hitting softballs at the batting cage, here. And my kid is grateful.
True, a family of dinosaurs traveling through time on a train doesn't sound like a winner. But my son seems oddly fixated by it. Did I mention there are dinosaurs and trains?
The biggest drawback is that Dinosaur Train makes me feel stupid. The program is a little overzealous in teaching different makes and models of dinosaurs. Take for example the main characters who are flying green dinosaurs. Pterodactyls, right? No, they are, apparently, Pteranodons. Every episode turns the brontosauruses and Tyrannosauruses of my youth on their ear.
But that's okay. Have you heard that it's 30 minutes of dinosaurs and trains?
Plus, how can you not love a song like "Every Dinosaur Poops"?
3: Sesame Street
The last ungentrified neighborhood in New York still brings steak to the potluck when everyone else settles for green bean casserole. For decades there's always been something for parents and kids alike here. My son loves Muppets singing about numbers, while I enjoy Andy Samberg bartering for octagons and the sharp-witted High School Musical parody, Pre-School Musical.
2: Arthur
Based on Marc Brown's aardvark-centric children's books, Arthur is astoundingly smart. It never talks down to kids and provides them with some really cool moments.
Instead of funneling useless garbage like math or table manners down kids' throats Arthur leans heavier on cultural and social lessons. Episodes have been known to expose characters to Ethiopian cuisine or how Amish people live.
While the show is great, there is still something I don't trust. This apprehension stems, most logically, from the fact that the opening credits try to teach kids that it's okay to listen to reggae.
1: Word Girl
The crown jewel of PBS Kids. This show was hotrodded to reel in children and smart-alec parents who cherish 30 Rock.
I was instantly sold by SNL smarm-master Chris Parnell's narration. But my dad-crush grew bigger by recurring characters played by Patton Oswald, Kristen Schaall and Brian Doyle Murray, among others.
But Word Girl doesn't just sign the actors' checkbook and cross its fingers. It's actually a good show and legitimately funny. The plot is a little thin, considering we're supposed to believe a little girl solves crime via spelling and verb conjugation. But that's okay, because the show's structure is reminiscent of the dada nonsensical leanings of Ren and Stimpy or Animaniacs. But with a vocabulary list!
Word Girl is the perfect melding of kiddie/parent fun PBS execs were hoping for. Ideally, they will use this as a blueprint for future shows take Martin Short's Cat to the Humane Society, never to be seen again..